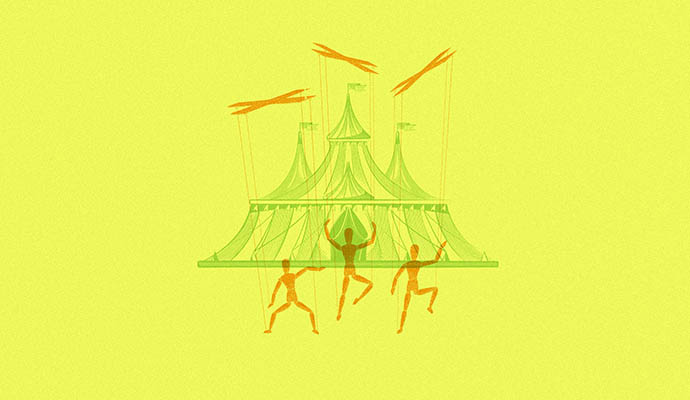 PETRUSHKA
Dig a little deeper into Stravinsky at this concert with his Carnival piece, "Petrushka," the story of puppets brought to life. We also welcome pianist Henry Kramer for his first appearance with the ASO, where he will bound his way through Beethoven's 4th piano concerto.
Vitality is sponsored by the New Music Society. Become a New Music Society member to support the creation and performance of new music.
GALA FLAGELLO: Vitality
BEETHOVEN: Piano Concerto No. 4
Henry Kramer, piano
STRAVINSKY: Petrushka
Program Note by Gala Flagello
Vitality
Gala Flagello (1994 - )
"Vitality" (2022) was written for the Aspen Conducting Academy 2022 orchestral readings and was inspired by a quote by Martha Graham: "There is a vitality, a life force, a quickening, that is translated through you into action and because there is only one of you in all time, this expression is unique. And if you block it, it will never exist through any other medium and will be lost." Graham begins in celebration of discovery and hope (the what), then reflects upon the process (the how), and closes with a warning (the why). The piece loosely follows this structure, musically exploring the prickly and potent glimmers of one's life force alongside the uncertainty of self-expression and vulnerability.
"Vitality" was written in memory of my friend and fellow horn player Marina Krol Hodge (1994–2022) and my father-in-law Steve Williams (1958–2022), both of whom left this world too soon but were the very embodiment of unique expression. Their bright spirits are present in the horn soli that appear throughout the work. Thank you to the Aspen Music Festival and School for breathing life into "Vitality."
---
Program Note by Beryl McHenry
Concerto No. 4 in G Major for Piano and Orchestra
Ludwig Van Beethoven (1770 - 1827)
Before he was a composer Beethoven was a pianist, and one of exceptional virtuosity. When he arrived in Vienna in 1792, aged 22, he quickly outdistanced the pianists who had been solid favorites in Vienna's musical world. He even engaged in a piano contest with the great pianist Daniel Steibel. The theme of the "duel" was to see who was the better improvisor. Beethoven based his improvisation on one of Steibel's own creations and won hands down. Steibel disappeared from the Vienna music scene shortly thereafter.
As time passed Beethoven became even more brilliant and imaginative in his playing and in his composing. His five piano concerti have been recognized as both superbly innovative for the times, and also as a vehicle for his own virtuosity. He premiered the first four but was unable, because of failing health, to premiere the fifth.
When the Fourth Piano Concerto was premiered in Vienna in December of 1808 in an unheated theater, Beethoven was the soloist. According to one musician present, "He played…with astounding cleverness and in the fastest possible tempi." This concert was also the premiere of the composer's Fifth and Sixth Symphonies, as well as several other new pieces. Because of the cold and insufficient rehearsal time for such challenging music, the concert itself was not particularly successful. Fortunately the music has endured in spite of that.
The Fourth Concerto is in three movements. In the first, the longest of the three movements, Beethoven makes the radical and unprecedented stroke of having the soloist immediately introduce the first principal theme. It is also, notably, a device that has rarely been imitated since. The shorter second movement, famous for its dialogue between strings and piano, creates a beautifully developed song. The third and final movement follows without pause. It contains a remarkable variety of moods and instrumental surprises. Trumpets and drums appear for the first time. After a cadenza and a series of trills, there is a quiet section before a lyrical finish.
---
Program Note by Beryl McHenry
Petrushka
Igor Stravinsky (1882 - 1971)
In 1910, Igor Stravinski was fresh from his triumph with The Firebird, a collaboration with the impresario of the Ballets Russes, Sergei Diaghilev. It had been a towering success, and Diaghilev, anxious to build on that success, contacted Stravinski to commission a second ballet. Although Stravinski was busy composing a piano concerto at the time, Diaghilev convinced him that concerto could be reworked into a ballet. The result was Petrushka: A Burlesque in Four Scenes, composed in 1910 - 1911 and revised in 1946. In the composer's words:
"I had in mind a distinct picture of a puppet, suddenly endowed with life, exasperating the patience of the orchestra with diabolical cascades of arpeggi. The orchestra in turn retaliates with menacing trumpet blasts. The outcome is a terrific noise which reaches its climax and ends in the sorrowful and querulous collapse of the poor puppet…"
Petrushka, also known as Punch, is a very old character, dating from the 16th century Commedia dell'arte. Stravinski's Petrushka is a figure of pathos and pity, an outsider whose attempts to gain acceptance result in contempt from those he seeks to impress. There are four scenes in the ballet. The first evokes an atmosphere of an annual fair in St. Petersburg. Petrushka is a clown puppet in one of the plays at the puppet theater. A drum signals the entrance of the Magician, who is in charge of the puppets and who has given them quasi-human emotions. They perform a lovely Russian dance. In the second scene, the Magician tosses the puppet Petrushka into a cramped cell. Now, however, he has human feelings. He sobs and rages, as he is joined by other puppets, including a ballerina. He loves the ballerina, but she is disgusted by him. Petrushka hurls himself against the wall in despair. In the third scene, a third puppet, the brutish Blackamoor, dances with the ballerina, who is attracted by his brutality. Petrushka breaks in on their love scene and is thrown out by Blackamoor. The final scene is back at the fair, with much dancing and revelry. An argument breaks out in the little theater, Petrushka cries out in jealousy, and the Moor slays him with a scimitar. As Petrushka is dying, the puppetmaster picks him up and shakes him to show that he is nothing more than a puppet made of wood and sawdust. But as the crowd withdraws, Petrushka's ghost appears and jeers at the puppetmaster.
A reviewer declared Petrushka to be "life itself…that very life that roars all around us, that flows in a swift, broad current…. The music of this extraordinary ballet has such integrity, energy and inexhaustible humor…" Diaghilev said, "Petrushka is such a work of genius that I cannot contemplate anything beyond it."
Stravinski revised his score in 1947, making it more of a concert piece. The original orchestration remains the most popular, however, with its inventive and colorful energy.
About the Guest Artist
Henry Kramer, piano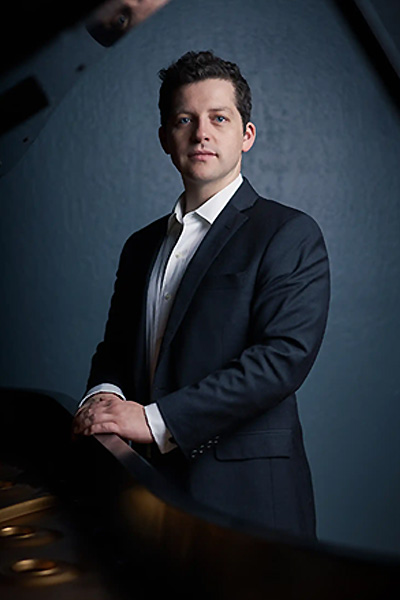 Praised by The Cleveland Classical Review for his "astonishingly confident technique" and The New York Times for "thrilling [and] triumphant" performances, pianist Henry Kramer is developing a reputation as a musician of rare sensitivity who combines stylish programming with insightful and exuberant interpretations. In 2016, he garnered international recognition with a Second Prize win in the Queen Elisabeth Competition in Brussels. Most recently, he was awarded a 2019 Avery Fisher Career Grant by Lincoln Center – one of the most coveted honors bestowed on young American soloists.
Teaching ranks among his greatest joys. In the fall of 2022, Kramer joined the music faculty of Université de Montréal. Previously, he served as the L. Rexford Whiddon Distinguished Chair in Piano at the Schwob School of Music at Columbus State University in Columbus, Georgia. Throughout his multifaceted career, he also held positions at Smith College and the University of Missouri Kansas City Conservatory of Dance and Music.
Kramer graduated from the Juilliard School, where he worked with Julian Martin and Robert McDonald. He received his Doctorate of Musical Arts from the Yale School of Music under the guidance of Boris Berman. His teachers trace a pedagogical lineage extending back to Beethoven, Chopin and Busoni. Kramer is a Steinway Artist.
Extras
Concert Information
---
Sunday, November 12, 2023 at 3:00 PM
Dawson Auditorium, Adrian College