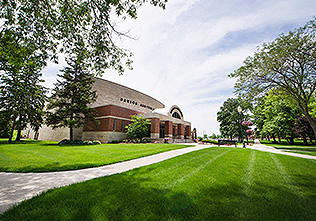 Built in 1962 and renovated in 2004, Dawson Auditorium is named for Adrian College's 14th president John Harper Dawson. It is the campus center for theatre, arts, music, and is home to the Adrian Symphony Orchestra. This performance facility includes spacious lobby and more than 1,000 seats.
Directions
Dawson Auditorium is located on the campus of Adrian College on Charles Street, just north of the corner of Charles Street and Michigan Avenue. Charles Street is a south-only turn from West Maumee Street/US-223 Business. Michigan Avenue is accessible south of West Maumee Street/US-223 Business north of West Maumee Street. Parking is available on-site.
For programming GPS purposes only, a near address for Dawson Auditorium is 240 South Charles St., Adrian, MI 49221. This is NOT a mailing address for the Adrian Symphony Orchestra.
Parking
Parking is available on either side of the auditorium (on the east and west sides of the building), on the street, and in the Merillat Parking Lot on the other side of Charles Street. If it's a nice day, park on Madison Street and enjoy a walk through the beautiful Adrian College campus.
Seating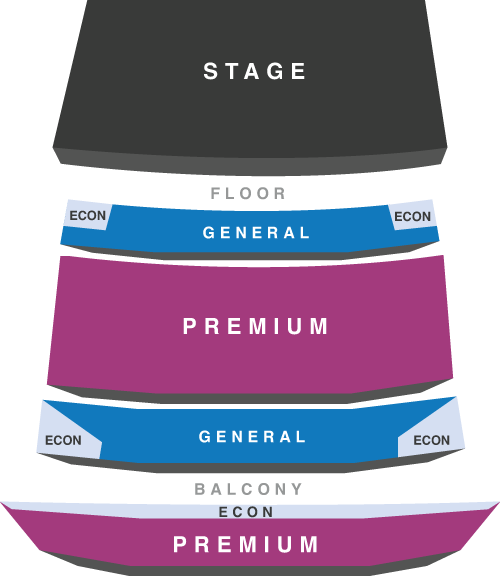 Every seat in Dawson Auditorium is a great seat! This modern structure does not have pillars or beams that obstruct the view of the orchestra.
Some audience members prefer a floor seat, while others prefer a balcony seat.
Seating on the floor: The audience is up close and personal with the musicians on their level. The hall is built with excellent acoustics so the sound is blended.
In the balcony: The audience gets a bird's eye view into the orchestra and is able to see the whole picture from the top with a full, balanced sound.
Facilities and Accessibility
Dawson Auditorium is handicap accessible. A ramp is available on the west side of the lobby doors. Handicap seating is available. Please call the box office for reservations and for more information. Handicap parking is available in the parking lot off Charles Street. Spencer Hall is equipped with a lift for stage access. An FM system is available for hearing impairment. Please contact the box office in advance to request this equipment.
Amenities
Restrooms
Restrooms (including a handicap restroom) and drinking fountain are located in the lobby.
Coat Racks
Limited coat racks are available in the lobby.
Cash Bar
A cash bar is available in the lobby and open before the concert, during intermission and after the concert. Alcoholic and non-alcoholic beverages and snacks are available for purchase.
ASO Boutique
Guest Artist CDs and other items may be available for purchase in the lobby. Cash, check and credit card accepted.
Dawson Auditorium is a smoke-free environment. This includes e-cigarettes.