About the Executive Director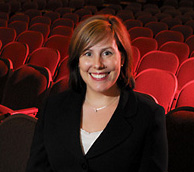 Elizabeth (Libby) Watson has been a part of the Adrian Symphony Orchestra family for more than 20 years as a musician, board member, and, since April 2009, as the Executive Director. She is responsible for planning, supervising, and administering all operational functions of the orchestra, including finances, fundraising, planning, promotion, board development, and community relations. Watson led the organization through its participation in the League of American Orchestra's Institutional Vision program and successfully launched the orchestra's first planned giving program whose long-term goal is to significantly enhance the orchestra's current endowment. In 2012, Watson applied for and won a national grant from the League of American Orchestras and Met Life that was used to strengthen board governance, increase the board's fundraising results, and develop a strategic plan for the organization. During her first season as Executive Director, the ASO successfully expanded the Young People's Concerts to offer a new program for middle school and high school students, and has implemented the new youth education programs, Music Moves Me, Instrument Petting Zoos, and Carnegie Hall's Link Up program.
Watson is an accomplished violinist and violist having played with the ASO for several seasons before joining the board in 2002. As a board member she served on artistic and fundraising committees and was appointed secretary of the board. She served on the executive committee for five years during a period of tremendous growth in audience development and donor support.
Watson holds a Bachelor of Arts degree in Business Administration from the Eli Broad School of Business at Michigan State University and has completed graduate coursework in the Organizational Leadership program at Siena Heights University. Watson has experience in the retail, automotive, and banking sectors. Most recently, she worked as a training and development consultant for ABN AMRO, an international bank.
Contact the Executive Director libby@adriansymphony.org.