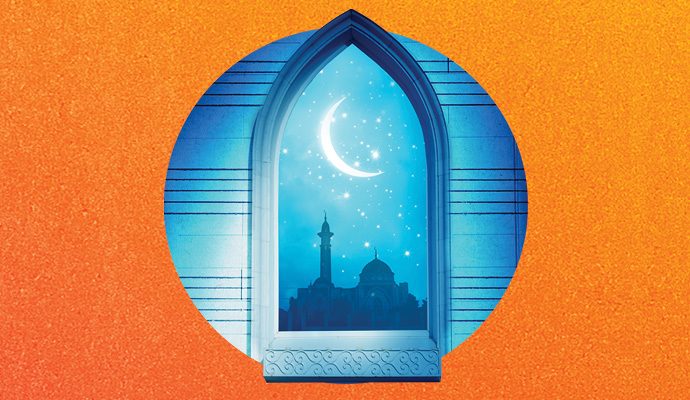 SCHEHERAZADE
AMY BEACH: Bal Masque
BRUCH: Violin Concerto
Kim Kaloyanides Kennedy, violin
Detroit Symphony Orchestra Concertmaster
RIMSKY-KORSAKOV: Scheherazade
---
Help us kick off our season of the concertmaster with two debuts. First, Detroit Symphony Orchestra's associate concertmaster Kim Kaloyanides Kennedy joins us for a short and delightful concerto. And our new concertmaster, Michael Romans, takes on the challenging solo lines written for the role of Scheherazade, the original desperate housewife, who conjured evocative stories for the Sultan.
Program Notes
Bal Masqué
Amy Beach (1867 - 1944)
Amy Beach has been given the descriptive title of "the first successful American female composer of large scale art music." Her musical skills were recognized from a very early age, but actually discouraged by her mother, whose style of child-raising did not include allowing her child to indulge in picking out tunes on the piano at whim, so Amy was denied access to the piano. She reacted by playing "in her head" and actually composed several piano waltzes that way. A visiting aunt convinced Amy's mother to let her play, and at age four she began lessons. She initially thought of herself as a piano performer, but at age 18 she met and married the much-older Dr. HHA Beach, who wanted her to compose. Thus began a career which produced a body of orchestral and piano works that included a Mass in E flat minor (at age 20), a piano concerto, multiple songs and her renowned Gaelic Symphony a few years later.
Bal Masqué (The Masked Ball) was originally composed as a piano miniature in 1894. In composing it, she incorporated melodies from her other works, as she often did. It is an example of Beach's desire to make wide use of her unique musical ideas in as many contexts as possible. She then orchestrated it, reportedly as an exercise in preparation for composing the Gaelic Symphony. It was first played by the Boston Pops in one of its concerts in 1895. It was performed once again by the Boston Symphony in 2000, 105 years after its debut by that orchestra, in honor of Beach's name being added to the famous Hatch Memorial Shell, a concert venue on the Charles River in Boston.
Bal Masqué is a delightful waltz in one movement, light in spirit, and reminiscent of a Viennese Waltz, in spite of being written by an American and having a French title. Because of its brevity it is often included in concerts and provides a wonderful interlude between longer works.
Beryl McHenry
---
Violin Concerto No. 1 in G minor
Max Bruch (1838 - 1920)
Max Bruch's earliest musical instruction came from his mother, who was a recognized singer and pianist, and his father was a civil servant. Max moved on to study with conservative musical teachers of the day who trained him in traditional German music (think Mendelssohn and Brahms) and he began composing at age 11. By age 14 he had composed a symphony and a string quartet, winning prize monies that allowed him to study with the best. He was in demand as a conductor all over Europe and in 1883 he visited America, conducting concerts of his own works.
Bruch has been recognized as the composer of one of Germany's four greatest violin concertos. The other three were done by Beethoven, Brahms and Mendelssohn, and volumes of comparison literature have been written. Bruch studied and learned from all of them, sometimes incorporating elements into his works. But generations of violinists have agreed that his ability to balance melody and virtuosity is unique. He worked hard to really understand violinists, and in that he was apparently very successful.
The Violin Concert No. 1 opens with a dialogue between orchestra and solo violinist, moving on to dreamy variants in the violin and proceeding seamlessly into the adagio movement. This movement is characterized by tenderness and counterpoint, especially in the violas and first violins. A more rhythmical foundation is laid down by pizzicatos in the lower strings and a new musical subject is heard, accented by the solo violin. The movement ends with a very soft background in strings and horns as the solo violin dies away. The Finale, full of rhythmic pattern and styled like a Hungarian Dance, demands new virtuosity from the soloist with its energetic double-stops.
Bruch comes very close to being a one-work composer, although he had been composing steadily since his boyhood. His volume of work includes nine major works for the violin, which he loved because it could "sing a melody better than a piano," and he felt melody was "the soul of music." He wrote orchestra and chamber pieces, but of all his works this, overwhelmingly, is the one that is performed most often.
Beryl McHenry
---
Scheherazade
Nikolai Rimsky-Korsakov (1844 - 1908)
Nikolai Rimsky-Korsakov was one of "The Five," a musical group also called "The New Russian School" of composition. The group's aim was to endow Russian classical music with its own identity, although none of the members, including Borodin, Mussorgsky, and Rimsky-Korsakov was ethnically Russian. From 1856 to 1870 they were based in Saint Petersburg, and collaborated on an effort to create a distinct genre of music that was uniquely Russian. Rimsky-Korsakov was the youngest of the group. They were severely criticized by the Russian Musical Society and the conservatories, but they persisted and their influence remains.
Rimsky-Korsakov was an ardent admirer of his colleagues' music and helped with orchestration, arranging, etc. In the winter of 1887 he formed the idea of Scheherazade, and began to build the story around one of the Arabian Nights folktales, striking a balance between an orchestrated work and an opera. He struggled with how much plot to include in his new orchestral work and decided that, while the suite has clear literary references, it does not actually suggest specific events as they are depicted in the story. He initially wanted to name the four movements Prelude, Ballade, Adagio and Finale, but ultimately allowed the present designations "to direct but slightly the hearer's fancy on the path which my own fancy had traveled…to hint at the fact that all of these are various tales of some one person (Scheherazade) entertaining her stern husband."
The designations are I. The Sea and Sinbad's Ship, II. The Story of the Kalandar Prince, III. The Young Prince and Princess, and IV. Festival at Baghdad: The Sea. The stories they refer to are part of the tale of a powerful sultan who kills his first wife, declaring her unfaithful. He kills more women, marrying a new virgin each day and killing her the following day. He eventually runs out of women in his realm eligible to marry - all except one: his advisor's daughter, Scheherazade. On her wedding night, Scheherazade tells the sultan a story. She keeps her tale going, stopping at a cliffhanger moment, promising the sultan she will continue the story the next night. She keeps up this pattern for 1,001 nights, and by then the sultan has fallen in love and Scheherazade becomes queen.
The movement titles are only vaguely related to the tales Scheherazade told, but the opening of the first movement suggests the sultan's brutal, brassy personality and the violin solo suggests Scheherazade's gentle but determined nature. Those themes reappear throughout the composition. The suite ends quietly with the solo violin - Scheherazade - having the last word.
Beryl McHenry
Kim Kaloyanides Kennedy, violin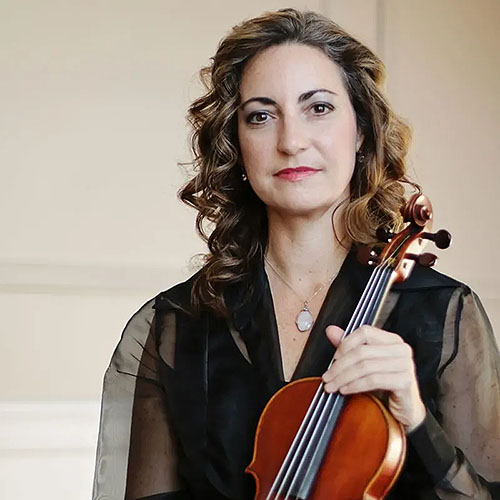 Kimberly began her study of the violin at the age of 5 in Dayton, OH. Being the daughter of a Minister of Music and church organist allowed her many chances to share from her heart in front of congregations. Her love of music became what undoubtedly would be her career as she pursued her studies at Brevard Music Center and Interlochen Arts Camp as the Governor's Scholar for the state of Ohio. She continued her studies at the Sarasota Music Festival; spent four summers at the Aspen Music Festival on Fellowship, as Associate Concertmaster of the Chamber Orchestra; spent three years at the Harid Conservatory in Boca Raton, Florida with Sergiu Schwartz; and finally landed at the University of Michigan with Paul Kantor. It was half way through her senior year at Michigan in 1998 that her hard work paid off, when she joined the first violin section of the Detroit Symphony Orchestra. In 2003, Kennedy further realized her dream when she became Associate Concertmaster.
Concert Information
---
Sunday, October 9, 2022 at 3:00 PM
Dawson Auditorium, Adrian College
| | |
| --- | --- |
| | CLASSICAL CONVERSATIONS |
Hear the stories behind the music with the conductor before the concert.
Classical Conversations for Scheherazade begins in the hall at 2:10 p.m.
Free to all ticket holders.