FOLK INSPIRATIONS
DAI WEI: The Dancing Moonlight
BARBER: Violin Concerto
Martin Chalifour, violin
Los Angeles Philharmonic Concertmaster
TCHAIKOVSKY: Symphony No. 2
---
Tchaikovsky's Ukrainian heritage comes center stage in his Second Symphony, chock full of the country's folk songs. Our soloist comes from the LA Philharmonic in Barber's virtuosic violin concerto after the program opens with a delightful ode to our nighttime companion in Dai Wei's The Dancing Moonlight sponsored by the New Music Society. Become a New Music Society member to support the creation and performance of new music.
Program Notes
The Dancing Moonlight
The piece was written during the Chinese New Year in 2017 and it was largely about my infatuation with a type of traditional dance music that originated from an ethnic group called Yi in Yunnan, China. I wanted this piece to carry a celebratory and energetic vibe while one is being nostalgic at the same time. With the capture and blending of the style and timbre in Jazz and Rock music, I wanted to express that we are always looking at the same moon regardless of where we are.
A bright moon rises over the sea, Wherever we are, we share the same moon at the same time.
—Zhang Jiuling, Gazing at the Moon Thinking of Afar
Dai Wei
---
Violin Concerto
Samuel Barber (1910 – 1981)
Samuel Barber is difficult to categorize among American composers. He did not stick with any one style, nor is any school of composing attributable to him. While other composers allied themselves with recognizable modern movements, Barber remained aloof and was content to write his own music. Because he could not be neatly categorized, he has been a controversial figure, to be attacked and defended in turns. He started his career as a singer, giving several professional recitals as a young man. Although he had composed as a child, he became seriously interested in composing as a young man and abandoned singing professionally to pursue it. He transferred his "singing" to his compositions, always including a highly developed lyricism in his work. Almost everything he wrote includes at least one gorgeous melody, leading some critics to label him "neo-Romantic". In fact nothing he wrote really fits the Romantic formula. Harmonies are complex and orchestration is often so unusual as to be experimental. As he matured, his lyricism became more poetic and more intense, and always full and rich in sound.
The Barber Violin Concerto has been described as a "transitional piece" in Barber's career. Composed in 1939, it was the work which moved Barber into his most modern period. He went on to compose in the ballet and opera media, wrote a cello concerto, a piano sonata and a march for band. He also wrote more than 100 songs, although only a few were published. His career waned in his later years, but public regard for his work has returned following his death. Nearly all his work is now available on CD.
The Violin Concerto is a work in three movements which contrasts the classical style of Barber's early work and the modern tone of his newer work, all within one piece. The two first movements sing sweetly, with a sensuous melody throughout. The third movement is a fast-moving scherzo, full of complex rhythms and very modern dissonances. It reminds the listener of a chase which leaves the runner breathless at its end. It should be viewed as not only a piece composed for public performance, but also as a reflection of Barber's devotion to personal expression in his music.
Beryl McHenry
---
Symphony No. 2 in C minor
Piotr Ilyich Tchaikovsky (1840 - 1893)
While the Symphony No. 2 of Tchaikovsky is actually his shortest symphony, the sub-title "little Russian" does not refer to its length, as though there might be a "great Russian" symphony. The nickname refers to Little Russia, an affectionate name at that time for Ukraine (although not enthusiastically accepted by Ukrainians) and so named because it includes several Little Russian folk tunes. He began the work of composing the symphony at the home of his sister Alexandra in the town of Kamenka, near Kiev, the capital of Ukraine. It had become a kind of "home-away-from-home" for him, a place where he could enjoy the warm family life he could not seem to establish for himself. He completed the work in Moscow, where his teaching duties required him to be.
The new symphony was premiered in Moscow in1872, substantially revised by the composer in 1879, and reintroduced in St. Petersburg in 1881. By this time the patriotic nationalism which was fueled by the efforts of Borodin, Rimsky-Korsakov, Mussorsky and others, "The Five," was taking hold and his colleagues showed disdain for Tchaikovsky's reverence for Beethoven and Mozart, and for the inclusion of so much folk music in his compositions. He earned their grudging approval by creating a kind of hybrid of the classic outline for a symphony and the use of sweeping melody.
While this work does not have any really slow music, it does begin with a fairly slow introduction which includes a Ukrainian song, "Down by Mother Volga," sung by a solo horn, and he revises and repeats this theme in other sections of the orchestra for the remainder of the movement. Instead of the expected slow second movement, Tchaikovsky gives us a bridal march composed for an opera which was never finished. History tells us he eventually destroyed it, but incorporated its theme into this second movement of the symphony. The third movement is energetic and lively with a small trio embedded within. The powerful last movement is again based on a folksong "The Crane," with accompanying variations. There is a lyrical string melody which leads into a dramatic conclusion.
In a further attempt to appease the nationalistic critics of his music, he dedicated the work to the Russian Musical Society. It was extremely popular and in a letter to his father, Tchaikovsky declared himself "delighted with all the success and the material profit that has accrued from it."
Beryl McHenry
Martin Chalifour, violin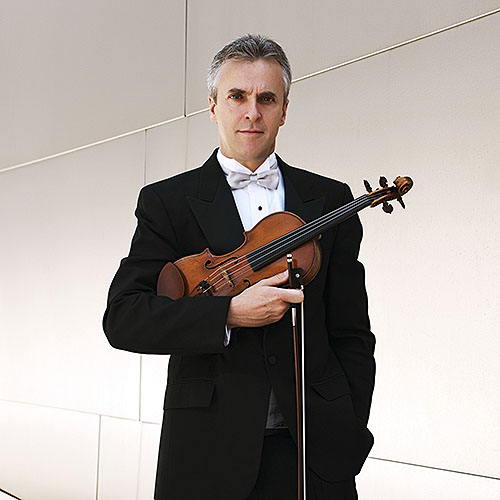 Martin Chalifour will begin his 25th season as Principal Concertmaster of the Los Angeles Philharmonic this fall. He graduated with honors from the Montreal Conservatory at the age of 18 and then moved to the United States to continue studies at the famed Curtis Institute of Music.
Chalifour received a Certificate of Honor at the Tchaikovsky Competition in Moscow and is also a laureate of the prestigious Montreal International Competition. Apart from his LA Phil duties, he maintains an active solo career, playing a diverse repertoire of more than 60 concertos. Chalifour has appeared as soloist with conductors Pierre Boulez, Gustavo Dudamel, Charles Dutoit, Christoph Eschenbach, Sir Neville Marriner, and Esa-Pekka Salonen. Outside the U.S., he has played solos with the Auckland Philharmonia, the Montreal Symphony, the Hong Kong Philharmonic, the National Orchestra of Taiwan, and the Malaysian Philharmonic, among others.
Chalifour began his orchestral career with the late Robert Shaw and the Atlanta Symphony, playing as Associate Concertmaster for six years. Subsequently, for five years he occupied the same position in the Cleveland Orchestra, where he also served as Acting Concertmaster under Christoph von Dohnányi. While in Cleveland, Chalifour taught at the Cleveland Institute of Music and was a founding member of the Cleveland Orchestra Piano Trio.
Concert Information
---
Sunday, November 13, 2022 at 3:00 PM
Dawson Auditorium, Adrian College
| | |
| --- | --- |
| | CLASSICAL CONVERSATIONS |
Hear the stories behind the music with the conductor before the concert.
Classical Conversations for Folk Inspirations begins in the hall at 2:10 p.m.
Free to all ticket holders.