Program Notes
Theofanidis: Rainbow Body
BACKGROUND
Rainbow Body was the coming together of two ideas- one, my fascination with Hildegard of Bingen's music (the principal melody of Rainbow Body is loosely based on one of her chants, "Ave Maria, O Auctix Vite"), and two, the Tibetan Buddhist idea of "Rainbow Body," which is that when an enlightened being dies physically, his or her body is absorbed directly back into the universe as energy, as light. This seemed to me to be the metaphor for Hildegard's music as much as anything.
PROGRAM NOTES
In the past few years I have been listening to the music of medieval mystic Hildegard von Bingen a great deal, and as simple and direct as this music is, I am constantly amazed by its staying power. Hildegard's melodies have very memorable contours which set them apart from other chants of the period. They are wonderfully sensual and set up a very intimate communication with the divine. This work is based on one of her chants, 'Ave Maria, o auctrix vite' (Hail Mary, source of life).
Rainbow Body begins in an understated, mysterious manner, calling attention to some of the key intervals and motives of the piece. When the primary melody enters for the first time about a minute into the work, I present it very directly in the strings without accompaniment. In the orchestration, I try to capture a halo around this melody, creating a wet acoustic by emphasizing the lingering reverberations one might hear in an old cathedral.
Although the piece is built essentially around fragments of the melody, I also return to the tune in its entirety several times throughout the work, as a kind of plateau of stability and peace within an otherwise turbulent environment. Rainbow Body has a very different sensibility from the Hildegard chant, with a structure that is dramatic and developmental, but I hope that it conveys at least a little of my love for the beauty and grace of her work.
Rainbow Body is dedicated to Glen Rosenbaum, without whose support and encouragement I would not be composing.
Christopher Theofanidis
Program Notes
Piano Concerto in One Movement
Florence Price (1887 - 1953)
Florence Beatrice Price was born in Little Rock, Arkansas. She performed a piano recital at age 4, published her first work by age 11, studied at the New England Conservatory at age 16 and ultimately became the first female African-American composer to have a symphony performed by a major American orchestra. That happened in 1933, and she would go on to compose some 300 works including the Piano Concerto in One Movement, premiered in 1934.
Success for Florence was an uphill battle - "a battle much larger than any war that pure talent and musical skill could win. It was a battle in which the nation was embroiled - a dangerous melange of segregation, Jim Crow laws, entrenched racism, and sexism." (Women's Voices for Change, March 8, 2013) She had been refused admission to the Arkansas Music Teachers Association, and so founded her own school and taught music in the segregated black schools. Tensions in Little Rock increased and led Florence to move to Chicago with her two daughters in 1927. She found Chicago more welcoming and was able to develop her own late-Romantic style with echoes of her African-American heritage to produce a large catalogue which included orchestral and choral pieces, works for individual instruments and arrangements of spirituals.
The Concerto in One Movement for piano is actually in three parts, beginning with a moderato which includes a piano cadenza with traditional overtones. This is followed by a lovely adagio, again including folk accents. The work is concluded with an allegretto section, based on the juba, a folk dance performed on plantations before the American Civil War.
No evidence has been found that this work was ever performed after the 1930s, and the score had been missing since about 1940. In 2010 the Center for Black Music Research hired a music professor from Drew University, Dr. Trevor Weston, to reconstruct the long-lost score. As Weston says, "My name came up as someone who could put Humpty Dumpty together again."
He was known for being sensitive to what an orchestra sounded like in 1934, and who upheld the work as an important piece of African-American history. He used Price's notes jotted on the piano score, listened to the only recording surviving, and studied three of Price's piano rehearsal scores - whatever he could find - to produce the complete work we have today.
Following its "second" premiere on Feb 17, 2011, 77 years after its first, reviewer Rae Linda Brown, herself a music professor at Loyola, said "We can uphold Trevor's score as authentic…He stayed true to Florence Price's voice."
Beryl McHenry
Program Notes
Symphonie Fantastique
Hector Berlioz (1803 - 1869)
Hector Berlioz was born in a small town near the French Alps. At age 12 he began teaching himself to play instruments, including flute, guitar and drums. He was a solitary child who was subject to uncontrollable mood swings. His volatile episodes, and fantasies of love and loss, prepared him to incorporate dramatic emotions into his music. He went to Paris to study medicine, but decided music suited him better. His first idol was Beethoven, whose music often ignored the classical structure of the times to accommodate his own emotions.
Berlioz also became a fan of Shakespeare's work, and it was at a performance of Hamlet that Hector fell passionately in love with Harriet Smithson, the Irish actress playing Ophelia. She repeatedly ignored his messages and Hector was devastated. Out of his obsession and subsequent suffering grew the idea for a "fantastic symphony", which describes in music a time in the life of an artist obsessed by his vision of the perfect, unattainable woman. The work was clearly an attempt to attract Harriet's attention, but it initially failed in that regard.
In five parts, the Symphonie fantastique begins by describing the protagonist's fixation with the perfect woman. Charming melodies mingle with orchestral motifs representing frustration and despair. There are tender moments and frenzied outbursts. The second movement describes a ball where the protagonist is tortured by the sight of his beloved. The music alternates between dancing and the antics of the man trying to get her attention. The third movement is a country scene, complete with landscape and animals, and echoes Hector's childhood. His jealous rages are thinly suppressed, and in the fourth movement break free. He poisons himself with opium. He dreams that he is executed for the murder of his beloved. This is the famous March to the Scaffold. He is escorted by a military band and the theme is cut short by the sound of the blade of the guillotine falling. His head bounces down the steps and drum rolls end the movement.The fifth movement describes a group of monster figures gathered for his funeral. His beloved appears as a witch. A church bell chimes his death. Chants and rituals become a black Sabbath dance and a fugue bears the soul of our hero to hell as the beloved gloats.
Harriet Smithson did not hear the symphony until two years after it had premiered. She realized then that she was the inspiration for the work. Intrigued, she agreed to meet Berlioz, and he overwhelmed her with his passionate appeals, at one point reportedly threatening suicide if she would not marry him. They were married in October of 1833, but after a time the passion faded. They were divorced seven years later.
Beryl McHenry
About the Guest Artist
Terrence Wilson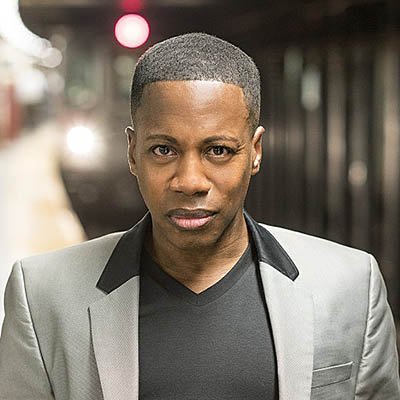 Acclaimed by the Baltimore Sun as "one of the biggest pianistic talents to have emerged in this country in the last 25 years" pianist Terrence Wilson has appeared as soloist with the symphony orchestras of Atlanta, Baltimore, Cincinnati, Dallas, Detroit, Houston, Washington, DC (National Symphony), San Francisco, St. Louis, and with the orchestras of Cleveland, Minnesota, and Philadelphia and the Saint Paul Chamber Orchestra. Conductors with whom he has worked include Christoph Eschenbach, Alan Gilbert, Neeme Järvi, Jesús López-Cobos, Lawrence Renes, Robert Spano, Yuri Temirkanov, Stanislaw Skrowaczewski and Gunther Herbig.
Abroad, Terrence Wilson has played concerti with such ensembles as the Lausanne Chamber Orchestra in Switzerland, the Malaysian Philharmonic, the Royal Scottish National Orchestra, and the Orquestra Sinfonica do Estado de Minas Gerais in Belo Horizonte, Brazil. He has toured with orchestras in the US and abroad, including a tour of the US with the Sofia Festival Orchestra (Bulgaria) and in Europe with the Baltimore Symphony Orchestra conducted by Yuri Temirkanov.
An active recitalist, Terrence Wilson made his New York City recital debut at the 92nd Street Y, and his Washington, DC recital debut at the Kennedy Center. In Europe he has given recitals at the Verbier Festival in Switzerland, the Lourvre in Paris, and countless other major venues. In the US he has given recitals at Lincoln Center in New York City (both Alice Tully Hall and Avery Fisher Hall), the Ravinia Festival in Chicago, the Caramoor Festival in Katonah, NY, San Francisco's Herbst Theatre, and for the La Jolla Chamber Music Society. An avid chamber musician, he performs regularly with the Ritz Chamber Players. Festival appearances include the Blossom Festival, Tanglewood, Wolf Trap, with the San Francisco Symphony at Stern Grove Park, and an appearance with the Grant Park Symphony Orchestra on July 4, 2015 before an audience of over fifteen thousand.
In the 2019-2020 season, Wilson made his Boston (MA) recital debut at the Isabella Stewart Gardner Museum to critical acclaim. In March, 2020, Wilson substituted for Andre Watts on short notice, performing Beethoven's Piano Concerto No. 5 with the Detroit Symphony.
During the 2020-2021 season, Terrence Wilson appeared as a guest soloist with the New Jersey Symphony Orchestra in a video produced by the NJSO, performing Mozart's Piano Concerto K. 467. He also appeared virtually on numerous online platforms due to Covic-19 pandemic restrictions. His first post-pandemic live performance was with the Brevard Symphony Orchestra (Melbourne, FL). Wilson was also a guest of the St. Augustine Music Festival where he played Beethoven's "Ghost" Trio with members of the St. Augustine Music Festival during an afternoon concert, followed by a performance of Beethoven's 5th Piano Concerto later that evening at the St. Augustine Amphitheater. He also adjudicated in the World Bach Competition and the Music International Grand Prix and serves on the faculty of the Brevard Music Center's Virtual Piano Institute in July. Also in July, he will give a virtual masterclass for students of the Boston University Tanglewood Institute (BUTI) and in January, 2022, he will serve on the jury of the Heida Hermanns Piano Competition.
The 2021-2022 season will bring Wilson back as soloist with the Nashville Symphony Orchestra. He will also make his debuts with the Baltimore Chamber Orchestra, the Boulder Philharmonic, and the Roanoke Symphony. In the fall, the Chamber Music Society of Detroit will present Wilson with the Escher Quartet performing Brahms' Piano Quintet in F minor. In the spring of 2021, he was appointed to the piano faculty at Bard College Conservatory of Music in Annandale-on-Hudson, NY.
Terrence Wilson has received numerous awards and prizes, including the SONY ES Award for Musical Excellence, an Avery Fisher Career Grant, and the Juilliard Petschek Award. He has also been featured on several radio and television broadcasts, including NPR's "Performance Today," WQXR radio in New York, and programs on the BRAVO Network, the Arts & Entertainment Network, public television, and as a guest on late night network television. In 2011, Wilson was nominated for a Grammy in the category of "Best Instrumental Soloist With an Orchestra" for his (world premiere) recording with the Nashville Symphony conducted by Giancarlo Guerrero of Michael Daugherty's Deus ex Machina for piano and orchestra - written for Wilson in 2007.
Terrence Wilson is a graduate of The Juilliard School, where he studied with Yoheved Kaplinsky. He has also enjoyed the invaluable mentorship of the Romanian pianist and teacher Zitta Zohar. A native of the Bronx, he resides in Montclair, New Jersey.
More about Terrence Wilson
Playlist
Concert Information
---
Sunday, October 10, 2021 at 3:00 PM
Theofanidis: Rainbow Body
Florence B. Price: Concerto in 1 Movement
Terrence Wilson, piano
Berlioz: Symphonie Fantastique
Dawson Auditorium, Adrian College