FESTIVALS
Program Notes
Starburst
Jessie Montgomery (1981 - )
Jessie Montgomery was raised in New York City, on the Lower East Side. Her father managed a music studio, so Jessie was exposed to a wide variety of music as she grew. The result is a body of work drawing from diverse sources, including African-American spirituals, civil rights anthems, modern jazz, and film scores. She creates music drawn from social and racial issues and has the reputation for finding in her music the pulse of what is happening around her. She is formally trained in violin, earning degrees from the Juilliard School and New York University. She has been a member of the Providence String Quartet and the Catalyst Quartet, and is affiliated with the Detroit-based Sphinx Organization, which aims to create opportunities for African-American and Latino string players. It was the Sphinx Organization which commissioned Starburst in 2012. Montgomery tells us:
This brief one-movement work for string orchestra is a play on imagery of rapidly changing musical colors. Exploding gestures are juxtaposed with gentle fleeting melodies in an attempt to create a multidimensional soundscape. A common definition of a starburst, "the rapid formation of large numbers of new stars in a galaxy at a rate high enough to alter the structure of the galaxy significantly," lends itself almost literally to the nature of the performing ensemble that premiered the work, the Sphinx Virtuosi, and I wrote the piece with their dynamic in mind.
The listening experience is explosive, bombarding its audience with sharp off-key tones, persistent rhythm, and complex harmonies, before closing on an abrupt high note.
Jessie Montgomery's debut album Strum: Music for Strings, which includes Starburst was released on Azica Records in late 2015. Her reputation continues to spread as she performs with the Sphinx Virtuosi and her compositions are presented to new audiences across North America.
Beryl McHenry
Program Notes
Concerto No. 1 for Piano and Orchestra in G Minor, Op. 25
Felix Mendelssohn (1809 - 1847)
Mendelssohn's First Piano Concerto was composed in 1831, when he was just 22. He was enjoying a highly successful career already. He had made his conducting debut in London in 1829, then produced an operetta in Berlin, and completed his Reformation Symphony. Late in 1830 he was working on the Hebrides Overture in Germany and finishing up his Italian and Scottish Symphonies while traveling in Italy. On his way back to Germany he spent some time in Switzerland, finally arriving in Munich in October. He was to conduct a concert of his music and felt he needed just one more work to make the program complete. The G Minor Concerto was written during that time to fill out the program. It premiered October 17 in Munich, along with several major works, and was such a success that Mendelssohn routinely included it in his concerts from then on. It also became part of every concert pianist's repertoire for decades after.
The work is in three movements, linked without pause to create a sense of overall unity. The first movement, Molto allegro con fuoco, is one of turbulence and fury, with the piano entering almost immediately, and piano and orchestra alternating the furious and lyrical subjects contributing to the whole. The second movement, Andante, begins with a fanfare and develops into a beautiful song, characteristically Mendelssohn, which ends on a sustained E major chord, then moves at once to the final Presto movement. Here another fanfare gives way to a brilliant Rondo which displays the soloist's virtuosity in a dazzling series of runs and leads to the spectacular conclusion. Mendelssohn himself performed the solo part at the highly successful premiere in Munich and wrote to his father the next day, "My concerto met with a long and vivid reception. The orchestra accompanied well and the work itself was really quite wild."
The concerto did, in fact, become a part of the repertoire of many concert pianists, including Franz Liszt. Mendelssohn had just met Liszt in Paris at the Erard piano showrooms. He placed the barely legible score for his new concerto on one of the pianos and was amazed to witness Liszt sight-read the work easily. Mendelssohn declared it to be "a miracle" and a popular legend has it that the piano itself became possessed and played the work over and over without a pianist after that until it was destroyed!
Beryl McHenry
Program Notes
Roman Festivals
Ottorino Respighi (1879 - 1936)
As a young man, Ottorino Respighi was torn between becoming a concert violinist and a composer, both occupations he had been trained for. He became a violinist with the orchestra of the St. Petersburg Opera and was able to study with some of the most brilliant composers of the day, including Rimsky-Korsakov. He moved to Berlin and continued his studies in both violin and composition, then moved to Italy, first as performer, then as professor of composition, then as head of the Santa Cecelia Academy in Rome. Finally, in 1925, he left the academy and devoted himself to composition. It was there that he composed his famous trilogy of symphonic poems inspired by the city of Rome. Roman Festivals completed in 1928, is the third of these, preceded by The Fountains of Rome (1916) and The Pines of Rome (1923). Respighi made four visits to America during this time, and Roman Festivals was premiered in Los Angeles in July of 1929, near the end of a coast-to-coast tour on his second US visit.
Respighi called his third part of the trilogy a vivid musical depiction of "visions and evocations of Roman fetes."
Roman Festivals opens by immediately plunging the listener into the raucous world of the imperial Roman circus with a brass fanfare. This is Nero's Circus Maximus, complete with wild beasts, singing martyrs, and a frenzied crowd. The second section, called "The Jubilee" describes medieval pilgrims trailing down a long road, praying as they go. The notation for this section is "doloroso e stanco" - sad and tired. When the pilgrims see Rome in the distance, their mood changes and they sing hymns of praise. The brass, winds, chimes, and bells capture the sounds of church bells across the city. The third section, "The October Festival," is dedicated to the celebrating that would happen following a successful harvest of grapes. There is dancing, serenading, and romance in a tender passage for mandolin. The finale takes us into the teeming throng in the Piazza Navona on the night before Epiphany. A trumpet rhythm provides clamor, and above it, strains of a barrel organ, the call of a barker, the sounds of wild dancing and drunken revelry, all emphasize the fact that these people are proud to be true Romans.
As with his companion tone poems, Respighi writes music of intimacy and sensitivity juxtaposed with episodes of overwhelming sonority, matching it all to the subject he portrays, and making it a powerful experience for the listener.
Beryl McHenry
About the Guest Artist
Daniela Liebman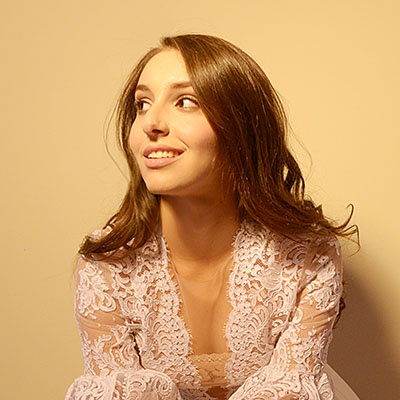 Nineteen-year-old Mexican pianist DANIELA LIEBMAN has rapidly established herself as an artist of eloquence, poise, and nuance. Since her debut at age eight with the Aguascalientes Symphony, Daniela has performed with more than twenty-five orchestras on four continents.
This season, Daniela makes her debuts with the San Angelo Symphony, the Wichita Symphony, the Adrian Symphony, Sequoia Symphony, and the Las Colinas Symphony. Daniela recently appeared as soloist with the Flagstaff Symphony, and Hartford Symphony, and made return appearances with the Orquesta Filarmónica de Jalisco and the Ontario Philharmonic. In past seasons, she has performed with the the Corpus Christi Symphony, the National Symphony of Ecuador, Orlando Philharmonic, the Boca Raton Festival of the Arts Orchestra, San Angelo Symphony, the Radio Philharmonic Orchestra of Peru, the National Symphony of Bogotá, and the Guatemala City Orchestra, among others.
In Mexico, Daniela has appeared with the National Symphony Orchestra of Mexico, the Jalisco Philharmonic Orchestra, Boca del Río Philharmonic, the Mexico City Philharmonic, the Michoacan Symphony, Zapopan Symphony, and the Sinaloa Symphonic Orchestra of the Arts. Daniela debuted at Mexico's Palacio de Bellas Artes in 2013, performing Shostakovich and Mozart on two separate occasions with the Cámara Orchestra of Bellas Artes. That same year, Daniela made her Carnegie Hall Stern Auditorium/Perelman Stage debut with the Park Avenue Chamber Symphony and Shostakovich's second piano concerto.
Daniela's recent recitals include at the Ravinia Festival — where she made her third appearance in spring 2021 — the Beaches Fine Arts Series, and in Long Island, New York. Previously, Daniela has given solo recitals at La Jolla Music Society; the Kennedy Center; Rockefeller University's Tri-I Noon Recital Series; Guatemala City; Joinville and Porto Alegre in Brazil; León, Durango, San Cristóbal de las Casas, Cuernavaca, and Mexico City (Blanco y Negro Festival) in Mexico; the Brevard Music Center; Valparaíso, Chile; the Salon de Virtuosi in New York; in Cordoba, Argentina; the Cleveland Museum of Modern Art's Tri-C Series; the Harriman-Jewel Series; the Kravis Center for Performing Arts, and more.
Committed to sharing her love of music with others, Daniela frequently participates in talkbacks with piano students of diverse ages and backgrounds, most recently at the La Jolla Music Society's Discovery Series and the Ravinia Festival. Her dedication to celebrating her heritage through creative programming reflects in her musical and cultural ambassadorship, notably at Harvard University's 2018 Mexico Conference.
Daniela released her eponymous debut 2018 album to critical acclaim, featuring "emotive" and "most memorable" (The Journal of Music) renditions of Schubert's Op. 90 impromptus, Chopin's third ballade, and Ponce's Balada Mexicana. Distributed by Warner Classics, the album reached #5 on Spotify's "Classical New Releases," #2 on Amazon Music's "Fresh Classical," and #2 on Apple Music's "New Classical." Since its release, Daniela's recording of Ponce's Balada Mexicana has been streamed over 1.5M times on Spotify. The same track is featured on the Mexican television series, Aquí en la Tierra, starring, among others, Gael García Bernal and Paulina Dávila. Daniela's upcoming album, slated for 2021 release, includes all four Chopin ballades.
In both 2016 and 2017, Daniela was named one of the "40 Most Creative Mexicans in the World" by Forbes Mexico. In 2018, Daniela was again named one of Forbes Mexico's "100 Most Creative and Powerful Women," and was invited to Forbes' reveal of its 2018 edition of Creativos Mexicanos, celebrating extraordinary Mexican leaders in the arts. She has been interviewed by Amy Poehler's "Smart Girls," is featured in GQ Mexico and Vanity Fair, and is the recipient of Mexico's 2014 Nacional Premio de Juventud.
Daniela has received first prizes in the 2017 Piano Texas Concerto Competition, the 2012 Russian International Piano Competition in California, and the 2011 "Night in Madrid" in Spain. In 2013, Daniela was selected to participate in Lang Lang's Junior Music Camp in Munich.
Born in Guadalajara, Mexico, Daniela began piano studies at age five, and has studied with Dr. Tamás Ungár in Fort Worth, Texas from 2014-2021. Daniela's hobbies include films, reading, biking, and trying different cuisines.
Daniela currently studies with Yoheved Kaplinsky at the Juilliard School. She is an international Yamaha artist.
Learn more by visiting www.danielaliebman.com
Concert Information
---
Sunday, November 14, 2021 at 3:00 PM
---
Montgomery: Starburst
Mendelssohn: Piano Concerto No. 1
Daniela Liebman, piano
Respighi: Roman Festivals
Dawson Auditorium, Adrian College