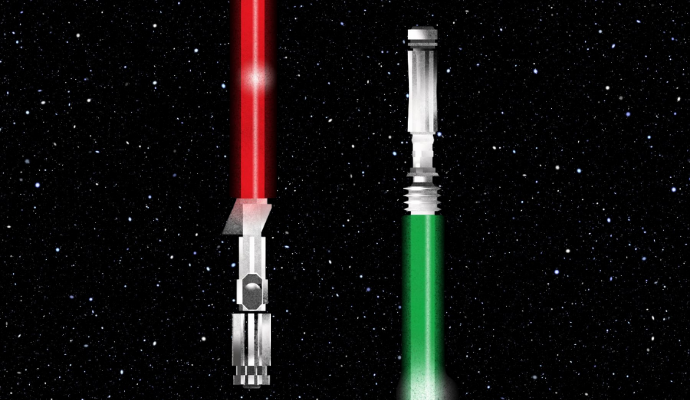 STAR WARS UNIVERSE
Program Notes
John Williams (1932 - )
With 51 Oscar nominations, 20+ Gold and Platinum records, 24 Grammys, and scores of other awards, including 4 Golden Globes, 7 BAFTAs, and at least a dozen honorary doctorates, John Towner Williams is one of history's most recognized and respected composers for the world of cinema. He currently holds the record for the most Oscar nominations for any living person. He is a member of the American Classical Music Hall of Fame and the Hollywood Bowl Hall of Fame. In 2004, he was honored at Kennedy Center. In 2005, his score for the first Star Wars film was selected by the American Film Institute as the greatest American movie score of all time. His scores for Jaws and E.T. are also on that list, at positions 6 and 14.
But John Williams is also a composer of serious concert works that have been performed by Mistislav Rostopovich, Andre Previn, Itshak Perlman, Yo-Yo Ma, Leonard Slatkin and Joshua Bell, among others. These include the Essay for Strings, a Sinfonietta for Winds, song cycles, and concerti for flute, violin, clarinet, trumpet, tuba, cello, bassoon and horn, as well as fanfares for the 1984, 1988, and 1996 Summer Olympics, the 2002 Winter Olympics, and a work for the Special Olympics. He has also composed theme music for the NBC Nightly News, and numerous television series (remember Peter Gunn?). His theme music from The Patriot was played after Barack Obama's election victory speech, and he composed additional music for the inauguration. He was principal conductor of the Boston Pops from 1980 to 1993 and is now the conductor laureate for that group. Mr. Williams is also an accomplished pianist, and has provided solos for many scores as well as appearing on a number of classical recordings in Europe.
John William's movie style is large and expansive, inspired by the huge works of such composers as Wagner. His trade mark in movie work is the use of thundering themes, most suited to science fiction and fantasy films such as Star Wars, Superman, E.T., Jurassic Park, Indiana Jones, Close Encounters and Harry Potter. He wrote for only 5 Westerns, and in The Cowboys, a 1972 John Wayne film, his robust, brassy score prepared listeners for the massive sounds to come.
Now 85, John Williams has commitments well into the future. In January of 2018 it was announced that John Williams' next project will be a fifth Indiana Jones film, scheduled for release in 2022. He has also, however, expressed a desire to focus more on concert works and on teaching tools to familiarize children with the world of symphonic music. In the meantime, whenever the average American is in the movie theater, the hotel lobby, the doctor's office, the sports arena, attending a parade or a hundred other places, he or she is likely to hear a bit of John Williams somewhere in the background.
Beryl McHenry
COSTUME CONTEST!
Bring the family and come dressed as your favorite Star Wars character. The audience will decide the winner.
Playlist
Concert Information
---
Friday, February 18, 2022 at 7:00 PM
Star Wars and Other Favorites from John Williams
Dawson Auditorium, Adrian College