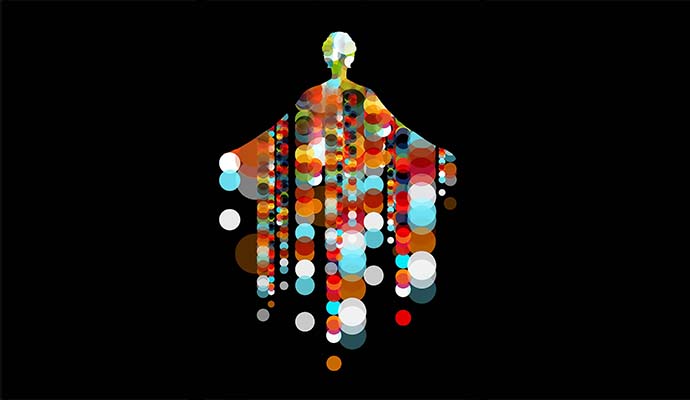 MESSIAH
Program Notes
Messiah
George Frederick Handel (1685 – 1759)
When Handel began composing Messiah, he tells us he was driven by an inner compulsion. Inspired by the text for an oratorio received from his friend, Charles Jennens, Handel sat down to work and completed his composition in an astonishing 24 days. The original signed manuscript bears Handel's own notations, in German, that it was begun on the 21st of August, 1741 and completed September 14, 1741. He appeared to work with tremendous impatience, directly on the score, with very few sketches or preliminary studies. He told a servant that he had felt divinely inspired when writing the Hallelujah Chorus, thinking that he was seeing "all Heaven before me and the Great God Himself."
Although the basic work was completed in 24 days, Handel himself certainly thought about it a great deal afterward. Some sections which one thinks of as being written in the "white heat" of inspiration were, in fact, Handel's second or third thoughts. It underwent many revisions, and Handel himself wrote different versions of some sections for particular purposes. When a singer of unusual gifts chose to perform it, Handel wrote a more brilliant version. Likewise, when the available singer was not up to some of the passages, Handel simplified. The score of Messiah that is performed today does not contain all the music that Handel wrote for the oratorio. There have been so many revisions that editors have had an ongoing task of determining what Handel's real intentions were for each given section. The so-called Autograph Score, now in the British Museum in London, is the only complete score in Handel's handwriting, and with minor exceptions, is the one generally sung today.
The structure of Messiah follows the traditional liturgical year. Part I corresponds with Advent and Christmas, and speaks of the life of Jesus. Part II incorporates the events of Lent, Easter, the Ascension and Pentecost, and Part III deals with the end of time, the resurrection of the dead, Christ's glorification in heaven, and the end of the church year. Material concerning the birth and death of Jesus are taken from Isaiah and the Gospel of Luke. Part I has become the popular "Christmas" portion, frequently performed during Advent.
While traditionally performed at Christmas, Messiah was not intended by Handel as a holiday work. It's first performance was in April of the year 1742. The Adrian Symphony will follow tradition, however, and present the Christmas portion, along with the Hallelujah Chorus, without which we would not feel our experience had been complete.
Beryl McHenry
Guest Artists
Sara Emerson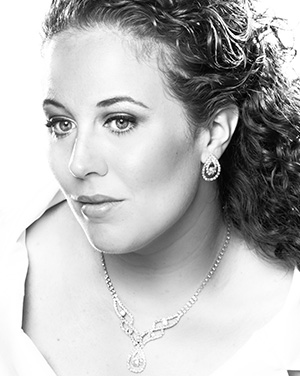 Sara Emerson, soprano, is an engaging singer who has recently performed with the Adrian Symphony, Andrews University Symphony, Metropolitan International Music Festival in NYC, Opera Grand Rapids, and AIMS in Graz, Austria. Ms. Emerson was a featured summer artist with Savannah Voice Festival, Connecticut Lyric Opera, and Asheville Lyric Opera. On the operatic stage, she has performed the roles of Mother in Menotti's Amahl and the Night Visitors, First Lady in Mozart's Die Zauberflöte, Venus in Offenbach's Orpehus in the Underworld, and many others. In her musical theater engagements, Ms. Emerson has appeared as Marian Paroo in The Music Man, Nettie in Carousel, and Lady Larken in Once Upon a Mattress. She performed the leading soprano role of Cleria in the North American premier of the revived manuscript of Francesco Cavalli's La Virtu de' Stralli d'Amore.
Ms. Emerson made her Carnegie Hall debut in 2010 where she performed Hector Villa-Lobos' Aria from Bachianas Brasileiras. She was soprano soloist in concert with the Adrian Symphony (Faure's Requiem, soloist), Andrews University Orchestra (Beethoven's Ninth Symphony), Traverse Symphony Orchestra, Southwest Michigan Symphony Orchestra, Lake Michigan Youth Orchestra (Orff's Carmina Burana), Kalamazoo Bach Festival, UMS Choral Union, & Kalamazoo Singers.
An active recitalist, Ms. Emerson regularly performs solo recitals throughout the Midwest, including a recent concert in Chicago and recital tour throughout Michigan. She developed the recital program "Opera Babies" which she performs for young children and their parents introducing them to opera for babies and children. Ms. Emerson also performed "Roof-top Recitals" throughout the Pandemic to continue to share music with others during the lockdown and beyond. She made her international recital debut in 2007 in Paris, France singing in the Summer Sessions Recital series.
Ms. Emerson won First Place in the Opera Idol Competition with Sherrill Milnes; Second Place in the International Chamber Music Ensemble Competition with the PVC Trio, of which Ms. Emerson is the founder; Second Place in the Marjorie Conrad Peatee Art Song Competition; Third Place in the Holland Chorale Nicholas Loren Vocal Competition.
Kristin Boggs Clark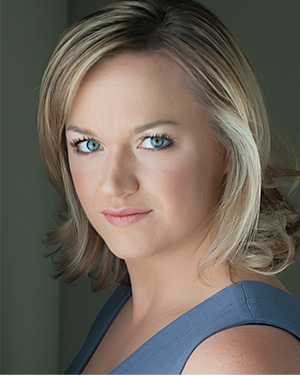 Kristin Clark, mezzo-soprano, is featured in the role of Electre on the 2015 GRAMMY nominated recording of Milhaud's L'Orestie d'Eschyle, for which Opera News lauded her voice as "slicing the air unassailably." Particularly at home on the concert stage, Kristin made her solo debut at Carnegie Hall singing Mahler's Das Lied von der Erde with the Blue Period Ensemble, and she has appeared as a guest soloist with organizations such as the Tallahassee Symphony Orchestra, the Illinois Symphony Orchestra, the Toledo Symphony, the Bozeman Symphony, the Oakland Choral Society, the University Musical Society, and the Adrian Symphony. Other notable concert appearances include the world premiere of Susan Botti's Tagore Madrigals at the American Academy in Rome and a Canadian Tour of Aaron Copland's In the Beginning.
Kristin completed her doctorate in vocal performance at the University of Michigan, where she also received Master's degrees in vocal performance and choral conducting. She is currently chair of the music department and a voice professor at Adrian College. Former students of hers have gone on to perform leading and supporting roles on Broadway, Off-Broadway, and in national tours, and to pursue graduate studies in opera.
Nicholas Music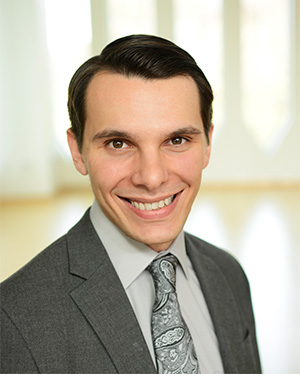 Hailing from Grand Rapids, MI, tenor Nicholas Music is a recent graduate of the University of Michigan, where he earned a Master of Music in Voice Performance. Prior to attending UM, Mr. Music received a Bachelor of Music in Voice Performance from Oberlin Conservatory. He left an impression during his studies, frequently featuring in mainstage operas, student recitals, and projects with resident composers. He was noted for his "superhuman expressive power and fine nuance" by Cleveland Classical for his performance in Du Yun's Angel's Bone in 2018. In the same year, he was also named a Rubin Scholar during Marilyn Horne's residency at Oberlin.
Some of Mr. Music's operatic credits include the titular role of Bernstein's Candide, Peter Quint in Britten's The Turn of the Screw, Le Mari in Poulenc's Les mamelles de Tirésias, Flute in Britten's A Midsummer Night's Dream, and Oronte in Handel's Alcina. He has also appeared on the concert stage, notably at Carnegie Hall as the tenor soloist in Stravinsky's Les Noces. Most recently, he performed the role of Ferrando in a student-led concert performance of Così fan tutte by Mozart.
In April of 2022, Mr. Music looks forward to performing the first three of Benjamin Britten's Canticles in a recital with Professor Martin Katz. In May, he will join an ensemble of UM students and alumni on an international tour of venues in New York, Vienna, and Krakow. This project, headed by Professor Patricia Hall, will realize rare manuscripts recovered from the Auschwitz concentration camp.
Ben Brady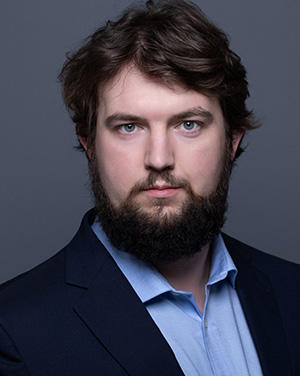 Recognized for his "sonorous tone" (SF Classical Voice), and his "commanding stage presence" (SF Gate), Benjamin Brady has quickly distinguished himself as a bass-baritone of prominent importance. He was last seen performing the role of Banco in Verdi's Macbeth with West Bay Opera. Other performances with West Bay Opera have included Zaccaria in Verdi's Nabucco and Rocco in Beethoven's Fidelio. Recent performances include Dottore Malatesta in Donizetti's Don Pasquale at the Mendocino Music Festival, and the Page in Donizetti's Roberto Devereux with the San Francisco Opera.
In 2018 Mr. Brady was awarded the Audience Favorite and First Place awards in the Tier II Category of the James Toland Vocal Arts competition in Oakland, CA. Later that year he was selected to advance to Regionals in the San Francisco District of the Metropolitan Opera National Council Awards. In 2020 he was selected to be a semifinalist for the Metropolitan Opera National Council Awards.
This summer he had the honor of participating in the Merola Young Artist Program at San Francisco Opera, and has been invited to participate in the program again in 2021.
Originally from Denver, Colorado, he received his BM in Vocal Performance at the University of Michigan.
Choirs
Adrian College Choir
Annual performances of the Adrian College Choir include singing for the AC Homecoming service, Lessons & Carols, and the Spring Choral Concert. The Adrian College Choir has toured throughout Europe, China and throughout the eastern United States. In 2008, the choir performed at the music festival in Beijing and Shanghai as part of the 2008 Summer Olympics festivities. In 2010, the choir made its Carnegie Hall debut performance in New York City. Recent large choral works with Orchestra include Mozart's Requiem with John Rutter in New York City, Beethoven's Symphony No. 9 with the Beijing Conservatory Symphony Orchestra, Beethoven's Choral Fantasy, Handel's Messiah, and Carl Orff's Carmina Burana with the Adrian Symphony Orchestra, the Faure Requiem with the New England Chamber Orchestra in New York City and Karl Jenkins' Mass for Peace with the Adrian Chamber Orchestra.
Phillip Clark is the Director Choir and Orchestra at Adrian College. Previous teaching and coaching positions include the University of Michigan, the University of Toledo, the University of Findlay, Owens Community College, and Siena Heights University. As a pianist, Phillip's performance engagements include recitals and piano concerto performances with the Adrian Symphony Orchestra, Sylvania Community Orchestra, Perrysburg Symphony, and the University of Toledo Symphony Orchestra. Phillip's choirs most recently appeared with the Adrian Symphony in Orff's Carmina Burana and Holst's The Planets. A graduate of the University of Toledo, Phillip received degrees in Piano Performance as a student of Dr. Michael Boyd.
Lenawee Community Chorus
Founded in 1967 by the City of Adrian, the chorus soon named Dr. Art J. Jones from Adrian College its Musical Director. He remained in that position until his retirement 25 years later. Lenawee Community Chorus (LCC) formed an alliance with Adrian College and was named its Chorus-in-Residence. The alliance remains today and the Chorus is extremely grateful. The Chorus established an Endowment Fund that remains in effect today.
Since then, other past directors have included James Allen; Thomas Dettbarn; Frederick Wilson; Dale Smith; Todd Barnhart; Todd Prickett; Dr. Julie Skadsem; Dr. Thomas Hodgman; Dr. Brian Altevogt; Karen Nevins and David Ripper.
People well beyond Lenawee County have enjoyed the concerts, which have included major classical works and short selections. The Chorus performs two concerts a year - Spring and Christmas concerts.
The Chorus has collaborated with the Adrian College Choir for many performances. Your whole family will enjoy the affordable concerts, led by their current Artistic Director and Conductor Joshua VanCampen.
Joshua is a Graduate of Adrian College where he studied Music and Mathematics. While attending Adrian College, Joshua had the opportunity to study choral conducting under the instruction of Dr. Kristin Boggs-Clark, and Dr. Thomas Hodgman. One of Joshua's passions is assisting young singers. He has had the opportunity to explore this passion by assisting his alma mater, Hanover Horton High School (Horton, MI), as well as Blissfield High School (Blissfield, MI), Pioneer High School (Ann Arbor, MI), and Madison Elementary (Adrian, MI) both chorally and vocally.
Joshua is a teacher at Lenawee Christian Schools and he has also been accepted into Michigan State University's Doctoral Program for Choral Conducting. Joshua's long-term goal is to receive his doctorate, and obtain a university level conducting job.
Playlist
Concert Information
---
Saturday, December 11, 2021 at 8:00 PM
---
Handel: Messiah
Sara Emerson
Kristin Boggs Clark
Nicholas Music
Ben Brady
Adrian College Choir
Lenawee Community Chorus
Dawson Auditorium, Adrian College