Sunday, November 10 3:00 PM
Dawson Auditorium, Adrian College
TCHAIKOVSKY: Piano Concerto No. 1
Tchaikovsky was by nature a very sensitive and insecure person, prone to dramatic ups and downs in his professional and personal life. He reacted to any criticism dramatically, and was often depressed for weeks following a negative remark. At the time he composed his first piano concerto, he was already recognized as a creative and competent composer for orchestra and solo piano, but he felt the need to compose something grand and new. He was an admirer of Nikolay Rubenstein, a well-known conductor who was director of the Moscow Conservatory and brother of Tchaikovsky's teacher Anton Rubenstein. Nikolay had conducted the premieres of four of Tchaikovsky's symphonies, and Tchaikovsky created his first piano concerto for him. It was to be something towering and lyrical, making use of all the piano's capabilities.
On Christmas Eve, 1874, he played through the first movement for Rubenstein, then the second, and then to the end with no comment from Rubenstein. When he finally spoke, Rubenstein was not complimentary. He declared the work "clumsy and unplayable, when not vulgar and chaotic". Tchaikovsky was devastated, then outraged and made his feelings known. Rubenstein softened and promised to play the piece if Tchaikovsky would make some revisions which Rubenstein would specify. The composer said: "I shall not alter a single note. I shall publish the work exactly as it is." And he did exactly that, dedicating it to Hans von Bulöw, a pianist and conductor who had praised his earlier work. Von Bulöw premiered the work in 1875 in Russia, then in Boston in the US. The US premier was highly successful, earning him a tickertape parade down Broadway. Back in Russia, Rubenstein, seeing how popular it had become, did become a fan of the concerto and actually praised it effusively.
Tchaikovsky actually follows the form of the classical concerto: sonata-like first movement, andante with variations in the second movement and a rondo finale. He begins with a grandiose introduction containing a major cadenza and ending with a thundering coda. The second movement contains a set of variations with piano and orchestra skillfully intwined, as well as interplay between the flute and soloist. The final movement makes use of a Ukrainian folk dance played by the piano and accompanied by a rhythmic orchestral response. There is a huge crescendo and exuberant coda and the virtuosity of the piano shines throughout.
Beryl McHenry
Dominic Cheli, piano
TCHAIKOVSKY: Symphony No. 6 "Pathetique"
The Symphony No.6 was composed in 1893, and premiered on October 28 of that year. It has been widely speculated that when he composed his Symphony No. 6, Tchaikovsky knew he was dying. In fact, he did die 9 days after that premiere, on November 5 of 1893, at the age of 53. Tchaikovsky was by nature a man of melancholy personality and his Symphony No. 6 reflects his emotional state at the time. But it was not necessarily a premonition that he was about to die, nor was it the work of a man contemplating suicide, as some have suggested. For most of that year Tchaikovsky was in good health and good spirits. He was enjoying success both at home and abroad. His creative talents were at their peak. He wrote to his nephew in February that he was composing "with such ardor that in less than four days I have completed the first movement, while the remainder is clearly outlined in my head." When he completed it in August, he told his publisher "never in my life have I been so contented, so proud, so happy, in the knowledge that I have written a good piece."
It is true that the symphony received a less-than-enthusiastic reception when it premiered, but friends said that he was in a bright mood a few days later. The exact cause of his death is speculative. The most likely seems to be that he contracted cholera after drinking tainted water. It is probably coincidence that he died so soon after conducting a symphony that is, after all, about death. The name "Pathétique" was not applied until after the premiere, and was suggested by his brother Modeste. Peter liked the name immediately and applied it when it was sent to the publisher. In fact, the original Russian word that has been translated as "pathetic" is in meaning closer to "passionate" or "emotional".
In his own words, Tchaikovsky said "the ultimate essence of the symphony is Life, First part, all impulse, passion, confidence, thirst for activity…Second part love: third, disappointments, fourth, dying away." It is about a struggle between one's life force and the inevitable descent into physical and emotional demise. Just as the soul's destination after death is uncertain, so does Tchaikovsky leave that question unanswered in the mysterious closing strains.
It is said that Tchaikovsky knew he was at the high point of his life work. His power as a composer was vindicated. He felt he had re-invented the symphony form, and history has confirmed that so many of the composers who came after him were freed to depart from the past also. He died knowing that this piece was "the best thing I ever composed or shall compose."
Beryl McHenry
About the Guest Artist
Dominic Cheli, piano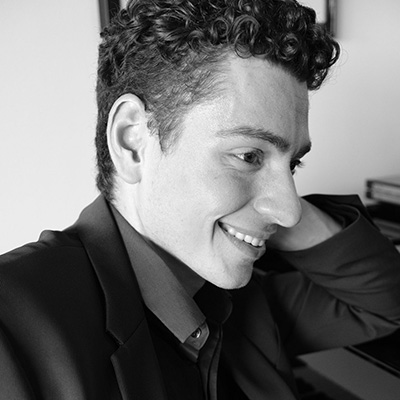 Applauded by MusicWeb International for his "splendid playing…great skill and technical prowess," pianist Dominic Cheli is First Prize winner of the 2017 Concert Artists Guild Competition. Earlier in 2017, Naxos released his debut CD, and he won the Music Academy of the West Concerto Competition, leading to a critically acclaimed performance of Prokofiev's Piano Concerto No. 2 with the Festival Orchestra. His rapidly advancing career includes his concerto debut in Walt Disney Hall under the baton of Valery Gergiev this season, and his Carnegie Hall recital debut on the 2018-19 CAG Series at Weill Recital Hall.
A native of St. Louis, Dominic has been praised for playing with "insight and tenderness" and "touch [that] was resonant and rich" (The Heartland Journal). Highlights of his 2017-18 season include a performance of Rachmaninoff's 2nd Piano Concerto with the Northwestern German Philharmonic, as well as recitals at Steinway Hall in Beverly Hills and the Colburn School in Los Angeles. His busy spring and summer 2018 schedule includes a return to the Virginia Arts Festival for a special concert celebrating his teacher and mentor André-Michel Schub (including their collaboration on Mozart's Concerto for Two Pianos, K. 365, with the Virginia Symphony), and also debut recitals at the Ravinia Festival and New York's Mostly Mozart Festival.
His debut CD for the Naxos label (July 2017) features the music of Muzio Clementi, and has been very favorably reviewed: "definitive performances that match splendid playing with an appreciation of, and sympathy with, Clementi's diverse, classically based style." (MusicWeb International). Dominic also recently recorded a performance on WQXR's long-running McGraw Hill Financial Young Artists Showcase program with host Bob Sherman, to be aired in mid-November 2017, and he has appeared on the Public radio program, From the Top.
Among the many notable venues at which Dominic has performed are Carnegie Hall, Merkin Concert Hall, the Granada Theatre of Santa Barbara and the Sheldon Concert Hall of St. Louis. Also in his hometown, he recently performed Beethoven's Piano Concerto No. 4 with the Metropolitan Orchestra of St. Louis, and has appearances with the DuPage Symphony, Columbus Symphony, Princeton Symphony, and the Symphony Orchestra of Great Falls planned for the upcoming season. Committed to sharing his passion for music with younger audiences, Mr. Cheli has performed on the concert series "Baby Got Bach," at the invitation of pianist and Artistic Director Orli Shaham.
Dominic has received numerous awards from Yale University including the Elizabeth Parisot Prize as "an outstanding pianist" and the Charles S. Miller Prize, awarded to "a gifted pianist who has done outstanding work." He also received the Harold Bauer Award from the Manhattan School of Music "given to a student in recognition of outstanding accomplishment, cooperation, and promise".
Dominic Cheli began his musical training in St. Louis, and he is currently pursuing an Artist Diploma at the Colburn Conservatory of Music in Los Angeles, California, studying with Fabio Bidini. He earned his Master of Music degree from Yale University and Bachelor's degree from the Manhattan School of Music. Past teachers include Zena Ilyashov, Peter Frankl, André-Michel Schub and Sylvia Rosenberg.
©2018 Dominic Cheli