MENDELSSOHN and MOZART
---
COVID-19 virus update: this concert was canceled.
---
MENDELSSOHN: G minor Concerto
Steven Lin, piano
MOZART: Symphony No. 41 "Jupiter"
Program Notes
Concerto No. 1 for Piano and Orchestra in G Minor, Op. 25
Felix Mendelssohn (1809 - 1847)
Mendelssohn's First Piano Concerto was composed in 1831, when he was just 22. He was enjoying a highly successful career already. He had made his conducting debut in London in 1829, then produced an operetta in Berlin, and completed his Reformation Symphony. Late in 1830 he was working on the Hebrides Overture in Germany and finishing up his Italian and Scottish Symphonies while traveling in Italy. On his way back to Germany he spent some time in Switzerland, finally arriving in Munich in October. He was to conduct a concert of his music and felt he needed just one more work to make the program complete. The G Minor Concerto was written during that time to fill out the program. It premiered October 17 in Munich, along with several major works, and was such a success that Mendelssohn routinely included it in his concerts from then on. It also became part of every concert pianist's repertoire for decades after.
The work is in three movements, linked without pause to create a sense of overall unity. The first movement, Molto allegro con fuoco, is one of turbulence and fury, with the piano entering almost immediately, and piano and orchestra alternating the furious and lyrical subjects contributing to the whole. The second movement, Andante, begins with a fanfare and develops into a beautiful song, characteristically Mendelssohn, which ends on a sustained E major chord, then moves at once to the final Presto movement. Here another fanfare gives way to a brilliant Rondo which displays the soloist's virtuosity in a dazzling series of runs and leads to the spectacular conclusion. Mendelssohn himself performed the solo part at the highly successful premiere in Munich and wrote to his father the next day, "My concerto met with a long and vivid reception. The orchestra accompanied well and the work itself was really quite wild."
The concerto did, in fact, become a part of the repertoire of many concert pianists, including Franz Liszt. Mendelssohn had just met Liszt in Paris at the Erard piano showrooms. He placed the barely legible score for his new concerto on one of the pianos and was amazed to witness Liszt sight-read the work easily. Mendelssohn declared it to be "a miracle" and a popular legend has it that the piano itself became possessed and played the work over and over without a pianist after that until it was destroyed!
Beryl McHenry
---
Symphony No. 41 "Jupiter"
Wolfgang Amadeus Mozart (1756-1791)
At the time the Jupiter Symphony was written, most major works were composed in response to a commission from a patron, for the purpose of making a living. Mozart, however, had just moved to Vienna and was determined to support himself and his family through performance and composing. It might have been more sensible to write smaller works which could readily be sold, but it was during this uncertain period of time that Mozart composed his three greatest - and last - symphonies. He certainly did not know they would be his last. At his young age he must have expected to live well into the nineteenth century. But something drove him to write, and all three, the 39th, 40th and 41st, were produced in about nine weeks during the summer of 1788. Each is a complete work with four movements. According to one program annotator this would have meant spending "5 days and a few hours on the composition of each movement." Additionally, he was composing other pieces, giving piano lessons, caring for a sick wife, grieving the loss of his 6-month-old daughter, moving to a new home and worrying about his financial obligations. We do not know when the work premiered, but there are in existence notes to show that it was performed in Dresden, Leipzig and Frankfurt in 1790.
The Symphony No. 41 is enormous in its emotional range and expressive brilliance. It opens with a stately theme alternating with a gently lyrical one. Second and third themes balance out the opening mood, pointing toward the second movement of the work. This begins with a simple four note theme reminiscent of church music. It follows a strict sonata form and serves as a perfect model of a dramatic symphonic movement. The third movement is a minuet, the kind of music that would be heard in an imperial ballroom. It contains a musical "joke" in that the opening notes of each phrase sound like a concluding cadence, while the notes that follow suggest an opening strain for that conclusion. His friend Haydn had used this device in one of his quartets a few months earlier. In the incredible finale movement, Mozart weaves together five independent figures to create a sense of excitement leading to a double fugue at the end.
The popular subtitle "Jupiter" was not applied by Mozart. According to his son Franz, it originated in London around 1819 and was devised by Johann Salomon, a London impresario, as an advertising device for the London performances that year. One wonders what Mozart would have thought of this addition.
Beryl McHenry
About the Artist
Steven Lin, piano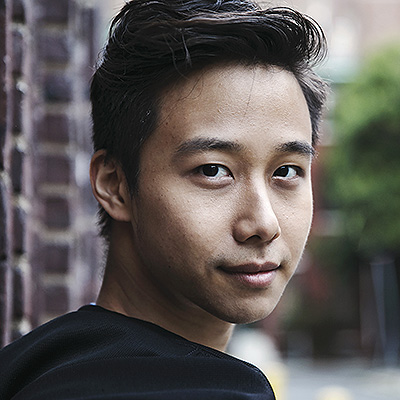 Taiwanese American pianist Steven Lin is an immediately engaging and imaginative young artist, applauded by the New York Times for playing that is "…immaculately voiced and enhanced by admirable subtleties of shading and dynamics," and his growing list of awards features the Concert Artists Guild Competition and the John Giordano Jury Chairman Discretionary Award at the 2013 Van Cliburn International Piano Competition. His dynamic playing at the 2014 Arthur Rubinstein Piano Competition was recognized when he was awarded the Silver Medal as well as numerous performance prize engagements in Israel and worldwide.
Steven Lin began the 2016-17 with summer engagements including the Bravo! Vail Valley Festival, the WQXR Beethoven Sonata Marathon, and a tour of Korea with the DITTO Chamber Ensemble. Featured performances this season include a recital at The Smithsonian Museum of American Art in DC, and concerto appearances with the Indianapolis Chamber Orchestra, DuPage Symphony (IL) and California's Chamber Orchestra of the South Bay and Tulare County Symphony, as well as the Evergreen Symphony of Taiwan. Recent concerto highlights include the Kansas City and Fort Worth Symphony orchestras, Los Angeles Chamber Orchestra and his debut in Carnegie Hall's Stern Auditorium with the New York Youth Symphony.
Internationally, Mr. Lin performed in Asia frequently during 2015-16, including a solo recital tour of Taiwan, and four recitals in China, including Shanghai, as well as a tour of Korea and China with the DITTO Ensemble. Other recent performances abroad include: National Taiwan Symphony; Evergreen Symphony Orchestra (Taipei); Taipei Symphony Orchestra; the Western Australian Symphony Orchestra; the Israel Sinfonietta Beer Sheva; and the Costa Rica National Symphony, as well as a recital at the Finca World Piano Festival in the Canary Islands, and a recital tour of Japan.
Steven Lin's artistry was clear from an early age when he was accepted by The Juilliard School on a full scholarship to study with Yoheved Kaplinsky at the age of ten, which in turn led to his debut with the New York Philharmonic in Avery Fisher Hall when he was only 13. Additional concerto highlights include the New Jersey Symphony, Baltimore Symphony, Tulsa Symphony, Orlando Philharmonic and Sendai Symphony Orchestra. He has appeared on radio broadcasts including NPR's From The Top and WQXR's Young Artists Showcase, and he is featured prominently in the Cliburn Competition documentary film, Virtuosity, which premiered on PBS in 2015.
The pianist's broad musical interests allow him to move with ease between concertos, recitals and chamber music, enjoying appearances world-wide at important venues including the Louvre and Salle Cortot in France, National Dublin Hall in Ireland, Seoul Arts Center in Korea, Sendai Cultural Center in Japan, and Avery Fisher Hall in the United States. Recent recital debuts include: both Zankel Hall and Weill Recital Hall at Carnegie Hall; The Kennedy Center; The Gilmore Rising Stars series; the Wallis Annenberg Performing Arts Center in Beverly Hills, and the National Chopin Foundation. Recent summer festivals include the Aspen Chamber Music Workshop, under the mentorship of David Finckel and Wu Han, and the La Jolla Music Society's SummerFest, curated by violinist Cho-Liang Lin.
In addition to his victory at the Concert Artists Guild competition, 2012 was a big year for Mr. Lin, when he was a prizewinner at the William Kapell International Competition, The Juilliard School's Gina Bachauer Piano Competition and he was awarded an unprecedented three honors at the 2012 International Hilton Head Piano Competition, cited for his excellence in baroque and contemporary music as well as his overall pianism.
Steven Lin recently completed the prestigious Performance Diploma program at the Curtis Institute of Music, under the guidance of Robert McDonald, and before that, he earned both Bachelor's and Master's Degrees at The Juilliard School, studying with Mr. McDonald and Matti Raekallio. When not making music, Steven describes himself as an 'NBA basketball fanatic,' a source of great pride and commitment which began when he was eight years old. Despite living most of his life on the east coast, he is a passionate L.A. Lakers fan.